Add Your Heading Text Here
Exam FM: Financial Mathematics
Instructor
James Washer, FSA
80+ video lessons (over 25 hours of instruction)
1,200+ solved problems
6 sample exams with video solutions
40+ hours of video solutions
Detailed formula sheets
No prior knowledge assumed
What's included in this course?
This online course contains everything you need to pass SOA Exam: Financial Mathematics
Comprehensive
100% of the syllabus is covered
80+ video lessons (over 25 hours) covering the entire syllabus
6 full length practice exams with video solutions
1,200+ solved problems
Study Aids
40+ Hours of Video solutions
Problem system to track your progress and identify trouble areas for you
Flashcards covering key information for practice and memorization in the Review tab of TIA Study
Detailed formula sheets
Features & Support
Full-time instructor support by email and course forum
Study schedule and time tracking integrated directly into lessons page
Play videos at variable speeds, flag content, and filter lessons
Video solutions and analysis of previous SOA questions

TIA Study
A Modern Learning Platform
Lessons, practice problems, flashcards, sample exams, and more all scheduled to have you ready on exam day
Tasks scheduled only on the days you plan to study
Create your own custom tasks
Miss a day? Your schedule will automatically redistribute all your remaining tasks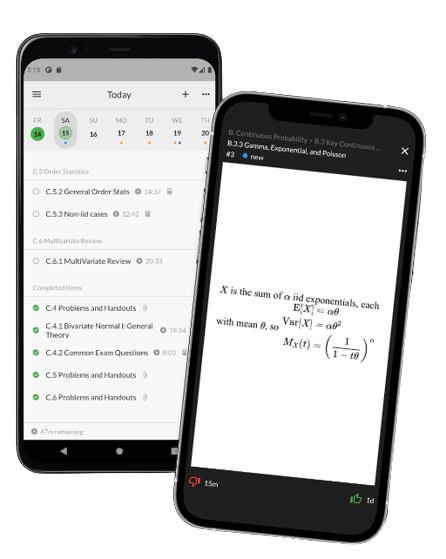 COURSE SAMPLES
How to use this Course ***START HER… WATCH VIDEO
A.1 Handouts & Formulas DOWNLOAD FILE
A.1.1 Interest Accumulation – Part 1 WATCH VIDEO
A.1.2 Interest Accumulation – Part 2 WATCH VIDEO
G.3.1 Redington Immunization DIGITAL FLASHCARDS
A.1.6 Simple Interest PROBLEM SYSTEM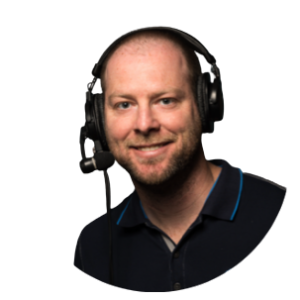 Instructor
James Washer
FSA    |  FM, 3L, ALTAM, FAM, + 2 more
James, CEO of The Infinite Actuary, graduated from the University of Alabama with a BS in Applied Mathematics. He received his FSA in 2006 after passing all of his exams on the first attempts. He is the instructor for TIA's Exam FM and LTAM courses. He has instructed at TIA since 2006 and helped thousands of students in that time.
James lives in Birmingham with his wife, Laura, and their two sons, Thomas and Carson.
SOA Exam FM
Expanded Features
This is an on-demand intensive exam prep course for SOA Exam – Financial Mathematics. When you register for this course you will gain access to the following items (except as noted) from the day you register for 6 months.
Comprehensive Course
80+ comprehensive video lessons (over 25 hours) covering the entire syllabus that simplify complicated info into more understandable terms and illustrate important numerical concepts through examples and graphics.
Online Discussion Forum
Active dedicated course forum loaded with existing questions and answers on syllabus material and past SOA exam questions. Instructors and our Support Team try to ensure everyone's questions are answered in a timely manner. ?
Detailed Formula Sheets
James has created formula sheets for each section as a quick reference guide for you. They cover each formula used in that section giving details about the formulas and defining the variables.
Sample Exams
This course includes 6 sample exams with each question having a video solution walking you through the best way to solve it. These sample exams are created to give you a true sense of what you can expect exam day.
Additional Handouts
Download printable PDF handouts to follow along slide by slide through the lessons. An examples and exercises version is also available where we include just the portions of the videos where James is working problems with you.
Practice System
As you complete lessons you will have the opportunity to test your new knowledge in the Practice tab of TIA Study to help assess how well you understand the material. As your exam day approaches you should be spending a lot of time in this system working all the additional problems. ?
Offline Videos
Take our videos with you everywhere you go and don't worry about a data cap or WiFi signal. Use TIA Study to download lessons or solutions videos and have them right at your fingertips. ?
Variable Speed Playback
Watch our lessons and video solutions at your pace! When watching our videos on a desktop or our Learn App you can select the speed that makes the most sense for you. The variable speed increases all the way up to 2x.
Today view
The Today view in TIA Study will let you know exactly what you need to do each day in order to stay on schedule, and it will automatically redistribute your tasks as your schedule adjusts over time.
Flashcards
This course offers over 350 digital flashcards written in a "Q&A" style to facilitate recalling information for exam-oriented questions. They are available in the Review tab of TIA Study. The app will download all the flashcards for the course to your device so can study at a moments notice!
Student Discount
This course offers a student discount to full-time students currently enrolled at a college or university. To receive the discount, click here. The discount code will then be sent to the school issued email. ?
Excellent Customer Service
You're never alone with The Infinite Actuary. Get help from your instructor and assistants in our online forum. Anything else you need help with, not related to the course material, just reach out to our customer service team and they will get your questions answered!
The FM seminar was fabulous. The instruction was on point, it went through the material in enough detail that I didn't need any supplemental text books or study guides. The practice problems were perfect. The TIA app was a life saver. I studied at work, on the soccer field, while traveling for business, chrome casted on my TV, etc. Needless to say I plan on buying all the courses as I pass more exams.


Alicia Barber
I did not pass exam FM the first time because I was an undergraduate student and scheduled the exam a day after finals. However, the infinite actuary gave me a free second six months of access. After going through all of the video lessons, which were excellent and easy to follow, I had one month to complete as many practice problems as possible. The video solutions to the practice problems were extremely helpful. One week before the exam, I took my first practice exam and scored only 60%. The infinite actuary helped me identify the concepts that I needed more work on. I took all six practice exams, and scored a 77% on the last practice exam. This helped me feel confident on exam day, which resulted in a passing score.


John Urwin
I'm a career changer who used to be a math teacher and ended up working in retail. I have never taken or taught a course in financial math, but after I took the Infinite Actuaries Exam FM course, I was able to be confident that I'd pass FM without difficulty.


John Turner
Preliminary
Probability
Financial Mathematics
Fundamentals of Actuarial Mathematics
Advanced Long-Term Actuarial Mathematics
Advanced Short-Term Actuarial Mathematics
Statistics for Risk Modeling
Modern Actuarial Statistics I
Modern Actuarial Statistics II
SOA
Life Product Management
Life Financial Management – US
Life Financial Management – Canada
Life ALM and Modeling
Enterprise Risk Management
QFI Quantitative Finance Exam
QFI Portfolio Management
QFI Investment Risk Management
Group & Health Design and Pricing
Group & Health Valuation & Regulation
Group & Health Risk Mitigation
Compound Interest, Life Contingencies, Demographic Analysis
Pension Law
Pension Funding
Advanced Long-Term Actuarial Mathematics
Advanced Short-Term Actuarial Mathematics
CAS
Basic Techniques for Ratemaking and Estimating Claim Liabilities
Regulation and Financial Reporting
Estimation of Policy Liabilities, Insurance Company Valuation, and Enterprise Risk Management
Advanced Ratemaking
Financial Risk and Rate of Return
Modern Actuarial Statistics I
Modern Actuarial Statistics II